This upcoming weekend, we celebrate all the Mama's we know. On this day and everyday, we show love and gratitude for the deserving women that inspire, support and motivate us. Even though, I'm not yet officially a Mom, this year is special to me as I'm a first time momma-to-be with only 4 months left until my little one arrives. How quickly the time passes!
So with this celebratory weekend just days away, are you feeling a bit stumped when it comes to finding a special and unique gift for each special Mom's in your life? Not to worry as I've rounded up an assortment of fabulous gift sets that are sure to put a smile on her face.
For the makeup maven…
RMS Beauty Glowing Gift Set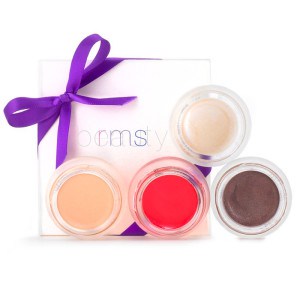 This full sized set contains 4 best selling essentials from organic beauty brand, RMS. Best yet, it's totally customizable so you can curate her perfect shade of lip, eye, highlighter and concealer coverage. If you are second guessing on her exact skin color; shoot me a message and include a clear photo so that I can help assist in matching.
Retails for $110.00 and valued at $138.00. For first time purchases, enter RMSWELCOME15 for 15% off of your first order.
For the skincare afficiando…
Tata Harper Daily Essentials: Natural Antiaging Skincare Discovery Set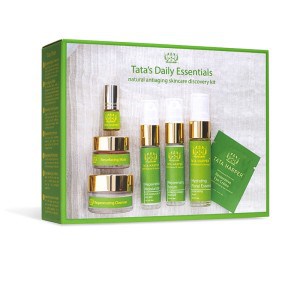 This seven piece deluxe sized skincare gift set contains all of Tata's recommended essentials for a complete antiaging and rejuvenating daily skincare ritual. Perfect for those wanting to amplify their skincare routine and take it to the next level by implementing this luxurious set of complexion pampering products.
Retails for $70.00 and valued at over $100.00
For the spa experience enthusiast…
Little Barn Apothecary Jasmine + Geranium Body Scrub and Coconut Cactus Hydrating Bath Milk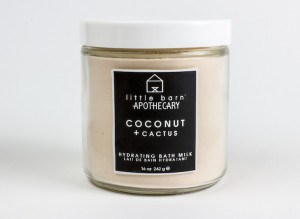 Together, this body renewing and soothing duo will become part of her favorite bathroom time ritual and create a personalized spa experience in the comfort of her home. Relax and balance your senses with LBA's Jasmine + Geranium Body Scrub, perfect for exfoliating and nourishing dry or over-worked skin. In addition, this body scrub us perfect for the shower and prepping skin for self-tanner, now that the Summer season is soon approaching. Finish with a decadent Coconut and Cactus bath soak reminiscent of a tropical getaway, to immediately soothe and soften skin.
Each is sold individually but can easily be created into a duo set. The scrub retails for $26.00 and the bath milk retails for $34.00.
For the candle and aromatherapy lover…
This non-toxic, soy wax candle is safe for your home and smells divine with bright and airy notes of grapefruit, coconut and gardenia. It's comprised of a essential oil and natural fragrance blend, it's the perfect candle to adorn her kitchen, bathroom or bedroom. The burn time is a solid 60 hours.
Retails for $39.00
For the health conscious cook…
IT'S ALL GOOD: Delicious, Easy Recipes That Will Make You Look Good and Feel Great by Gwyneth Paltrow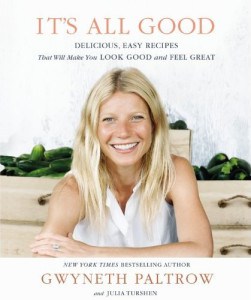 Ideal for the clean-eating culinary beauties in your life, this best selling book by Gwyn (founder of all things Goop!), perfectly captures delicious, clean-eating recipes to help you not only look and feel great. This is a superb book for those with dietary sensitivities and food allergies or those simply seeking a full, inside-out detox.
Retails for about $20.00 on Amazon.com
An added bonus, Goop just launched a complimentary, on-line cookbook club, periodically featuring a different cooks from around the nation, sharing their most coveted, delish recipes.
Wishing you all a joyful Mother's Day!
Xx
Jo