Now being six months pregnant, I've taken notice that not only do your hormones and your body change significantly, but so does your skin. For example, before getting pregnant, my skin was very sensitive, combination and break out prone. After only a few months into pregnancy, that all changed. My skin actually became much more dry; that could have also been attributed to the chilly Spring we had in Chicago. Additionally, on the bright side, my breakouts seemed to cease both on my face and body. My skin's sensitivity has began to dissipate. I noticed that when trying out different skincare products, my skin seemed to be calm, cool and collected. Thanks baby L!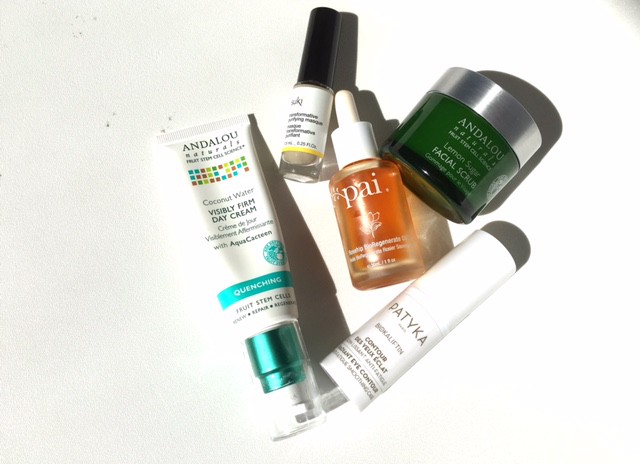 I wanted to share with you all the products that have made the biggest difference in the way my skin behaves, feels and looks during my pregnancy. Personally, the key to a successful skincare regimen while pregnant, is to keep things simple and to be vigilant about your daily routine.
My morning routine…
Cleanse with Drunk Elephant's Pekee Bar. I lather the soap bar with warm water and massage in circular motions along my face and then thoroughly rinse.
As I gently pat down my skin, I leave it a bit damp instead of toweling off completely. Next, I apply Andalou Naturals Coconut Water Visibly Firm Day Cream (about two pumps) and massage gently onto my face and neck. I love how light yet hydrating this makes my skin feel, it's such a solid Summer time moisturizer!
Next up, I pat Patyka Paris Skincare's Radiance Eye Contour Cream along my orbital bone and onto the tops of my lids using my ring finger for the lightest touch. The fluid like texture of this cream immediately firms and softens the area around my eyes. Its a perfect prep for concealer if I decide to apply makeup right after.
Morning or night routine….
Twice a week, a use a gentle and hydrating scrub that helps to clarify skin, shrink pores and remove excess impurities. My go-to facial scrub is Andalou Naturals Lemon Sugar Facial Scrub. I love the creamy-gel consistency and the granules are very gentle as you massage onto skin. I apply a dime to a quarter amount onto dampened/semi-wet skin, let it sit for one minute and then rinse. Sometimes a double cleanse, washing with Drunk Elephant's Pekee Bar first and then following with this scrub for an ultimate clean feeling without feeling as though I've stripped my skin dry.
Also twice a week, I use a hydrating facial mask. I'm currently obsessed with Andalou Naturals Rose Water Mask. This lush, creamy-gel mask is infused with rose petals along with pomegranate extract to tone and hyaluronic acid to plump. I mostly use this at night after cleansing with the Pekee Bar but sometimes incorporate it into my am routine as well. My total favorite way to use it is right before I take a mineral and lavender bath. I'll dampen my skin, apply a quarter sized amount thin layer onto skin then hop into the tub. After 15 minutes, I hop out of my bath and then rinse my face and pat dry. Heavenly!
Night time routine…
After cleansing with the Pekee Bar or Lemon Sugar Scrub, I apply 3-4 drops of Pai Skincare's Rosehip Bio-Regenerate Oil onto my face and neck. This oil is an AMAZING, natural alternative to retinol as it helps to combat discoloration and breakouts which can be common place during pregnancy. Plus, it smells divine!
I then apply Patyka's Eye Radiance Contour Cream…same way as my a.m routine.
Lastly, I do get a pimple, I dab on Suki Transformative Purifying Mask onto troubled spots. I find that this works great on my back as well. This mask is an awesome alternative to salicylic acid during pregnancy for helping to clear up acne.
For an in-depth video of my preggo skincare routine, be sure to check out the latest video on my Youtube Channel as well.
Till next time lovees, XX
Jo